Start a Vegan Diet on Earth Day! That's the best thing you can do for your planet!
Today is the most important Earth Day in history. As the climate and biodiversity crises worsen across the world, we face a turning point for humanity: we either take action and fix the situation together, or continue causing the problems that brought us here.
So what can we do as individuals to help? Of course, there are many ways. You can switch your energy provider to a renewable supplier, stop buying fast fashion clothing, make sure you don't have any investments in fossil fuels, or even buy an electric car. But there's one thing we can all do that makes a big impact across the world, and it starts with our food.
Cutting out animal products from your diet makes an incredible impact. Here's three reasons why (backed by science).
1. A vegan diet is the 'single biggest way' to reduce your impact on Earth
The largest ever scientific analysis in history (from the University of Oxford) revealed the terrible carbon and land footprint of animal agriculture. It explained how animal farming provides just 18% of calories but takes up 83% of farmland globally. But that's just the land use, the emissions are worse than previously thought.
The study, published in the Science (one of the world's most respected scientific journals), showed how even the 'lowest impact beef' was still much more damaging to the atmosphere than any plant-based food.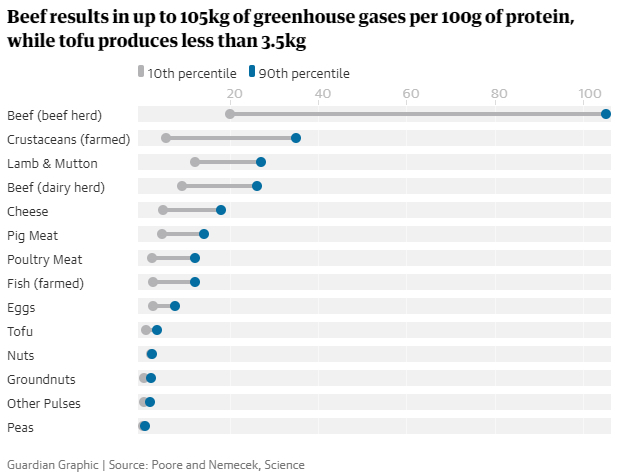 2. A vegan diet requires much less land and frees up space for natural carbon capture (trees)
Nature Sustainability (another world-leading scientific journals) published a report last year showing the incredibly positive impact plant-based diets can have on climate change.
You can check out the abstract/summary below, but here's a brief version and explanation we have prepared:
This study revealed the huge 'carbon opportunity cost of keeping livestock'.
That means there is a huge amount of carbon from the atmosphere that land could draw down/capture (using trees/plants etc.) if it were not being used for animal farming/livestock production. It also means there is an ecological opportunity cost – for example: the woodlands, wetlands, wolves, wild herbivores and thriving ecosystems the land could support if it were rewilded and turned away from animal farming.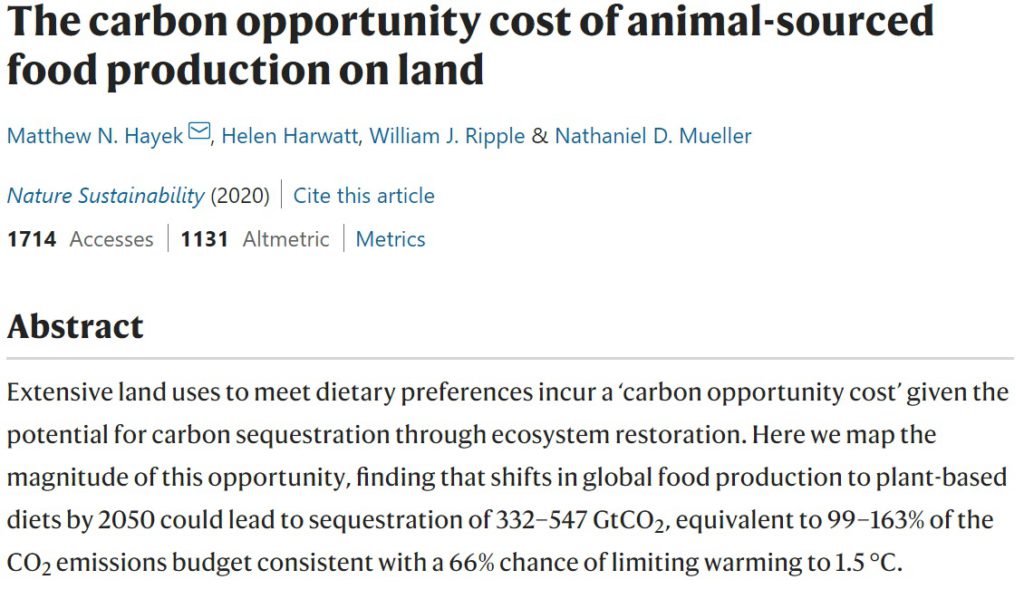 But how do we put this into simple terms so I can explain this point to my friends, family and colleagues?
Here's our effort:
The research shows us that it is far better to use land for plants (e.g. trees, grass, crops) to draw down carbon from the atmosphere, rather than farming animals for meat/dairy etc.
The impact we can have by switching our food production to vegan diets is even larger than previously thought. The report from Nature explains how a shift to vegan diets could enable us to draw down over 500 gigatons of CO2e*… that's an amazing 500 billion tons! This would give us an excellent chance of limiting global warming to 1.5℃. This might be the strongest argument of all!
3. Vegan diets are essential to protect biodiversity
A new report from British think tank Chatham House found that vegan diets are the best way to protect biodiversity around the world.
The report, titled Food System Impacts on Biodiversity Loss, highlights how animal agriculture/farming is a dangerous threat to most species currently at risk of extinction.
Clearing land to create pastures for farmed animals is the main cause of habitat loss across the world. Right now, the majority of all our crops are grown just to feed farmed animals to create meat (despite many people starving in the world).
The report says that a shift towards plant-based meats and dairy alternatives will certainly help the situation and help protect our biodiversity. Farming crops/plants/vegetables instead of animals takes much fewer resources, and saves a huge amount of land and water.
The report estimates that if the world switched to a vegan diet, over 75 percent of the world's cropland could be repurposed. Much of that land can be restored to nature, and would provide habitat for wildlife (helping protect and restore biodiversity). You can read the full report here.
As you can see, from an environmental point of view, there are many excellent arguments in favor of a vegan diet for earth! Of course, there are clearly many other great reasons to leave animals off your plate (animal welfare, food resources, health etc.), but this one is very important.
So next time someone challenges veganism and asks you to explain it all, make sure you have this blog and those facts at the ready!
How can Veggly help you?
That said, we hope you don't have to explain veganism all the time and you can find someone who shares your love of animals and our planet! As you know, that's why Veggly exists!
To see some of our success stories and messages from our users who found love from their Veg-Matches, please see this page here.
And if you're reading this, we encourage you to participate in this year's Earth Day and make a positive impact in whatever way you can.
So there you have it!
As Veggly grows further, make sure you subscribe to our blog and stay up to date with all of our announcements, other news stories, blog posts, and recipes.
Please follow Veggly across our social channels:
* CO2e (carbon dioxide equivalent) is a unit for measuring carbon footprints. CO2e is used to express the impact of each different greenhouse gas in terms of the amount of CO2 that would create the same amount of global warming.