For the recent #VegChallenge, participants from different parts of the world were encouraged to submit their most creative vegan recipes that they would cook to impress a date, and two recipes caught our attention the most as were selected as our VegChallenge winners!
The first one was sent by Andrea, from Milan, Italy! It is a mouthwatering Risotto with Asparagus, Sichuan Pepper, Carrot Cream, and Freeze-Dried Basil.
Our second winner is Stacey, who sent in a Vegan Chow Mein Recipe with Tofu directly from Canada! This creation combines the flavors and textures of stir-fried noodles, crisp vegetables, and marinated tofu, resulting in a delightful and satisfying meal.
If you would like to recreate these #VegChallenge winning dishes at home, let's take a closer look at the winners recipes and discover why they're a perfect choice for a veg date!
1. RISOTTO RECIPE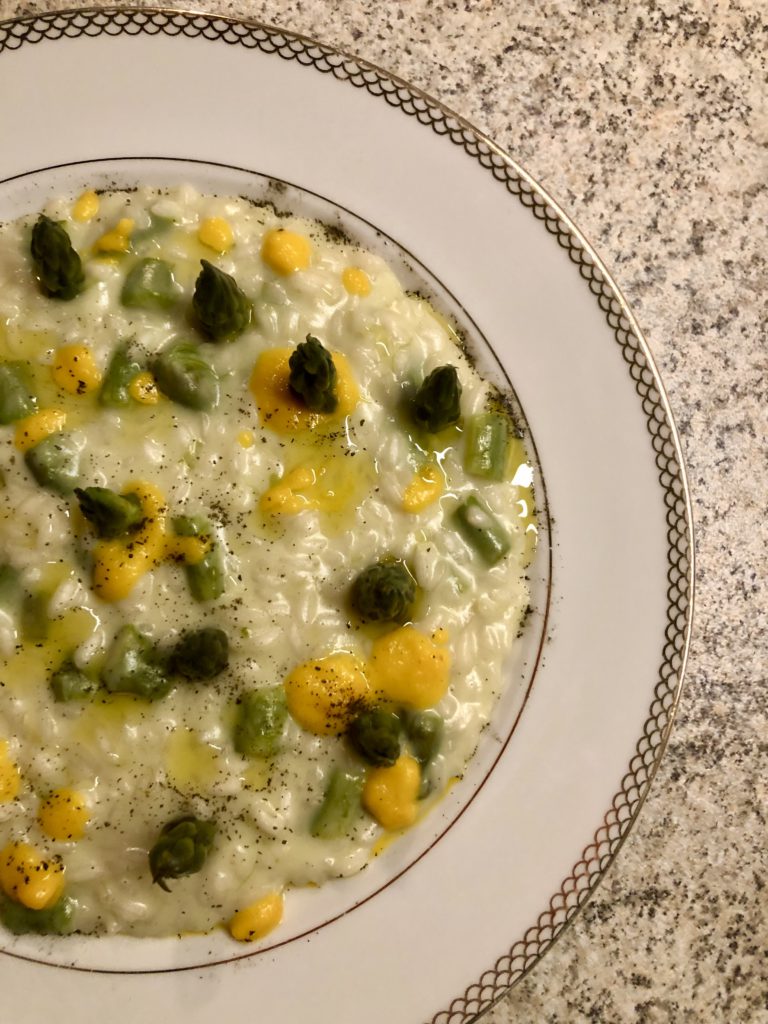 Ingredients:
140 g of risotto rice
1 small glass of Vin Santo (Italian dessert wine)
1 bunch of asparagus
Approximately 10 grains of Sichuan pepper
1 large carrot
Half an onion
Extra virgin olive oil
About 2 tbsp of béchamel (vegan version)
Freeze-dried basil (to taste)
Instructions:
First, start by blanching the asparagus in salted water until tender but not mushy. Separate the tips from the stems and cut the stems into small pieces.
Next, in a pan, toast the Sichuan pepper for two minutes and then transfer it to a mortar to crush or grind into a powder.
Sauté the onion in a pan and cook over low heat for approximately 8 minutes. Add the carrot cut into julienne strips and cook for an additional 10 minutes, adding a little water from the asparagus to prevent sticking.
Once the carrot and onion are tender, blend them together using a mixer. Add the crushed Sichuan pepper to the mixture and set aside.
In a separate pan, sauté the asparagus stalks with a drizzle of olive oil until they are lightly browned.
Moving on to the risotto, toast the rice over medium heat for two minutes, then deglaze the pan by adding the Vin Santo wine.
Pour in the boiling asparagus water and start cooking the risotto. Halfway through the cooking process, add the asparagus stems and continue cooking with water as if preparing a traditional risotto.
When the risotto is almost cooked, stir in the béchamel and drizzle some extra virgin olive oil to enhance the creaminess and flavor.
To serve, plate the risotto and garnish it with the asparagus tips and the carrot cream. Sprinkle some freeze-dried basil on top to add a refreshing aroma and a burst of color.
2. VEGAN CHOW MEIN WITH TOFU RECIPE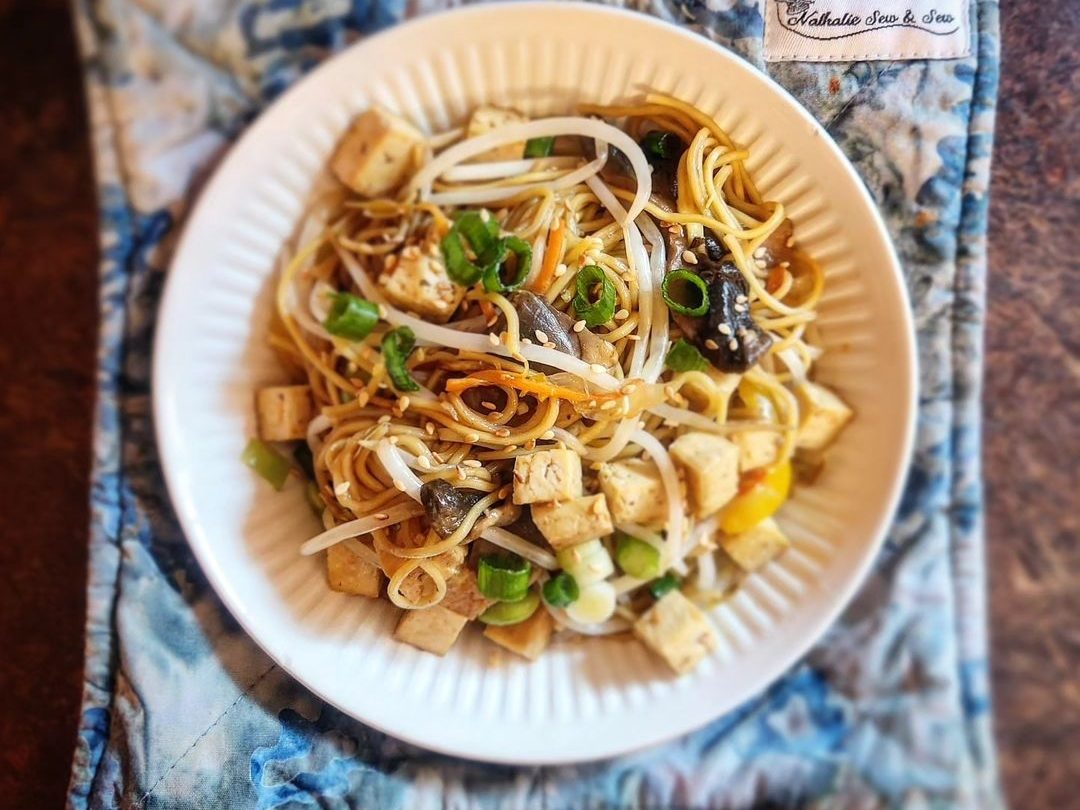 (courtesy of Lettuce Veg Out Blog)
Main Course Ingredients:
Vegan chow mein noodles
Tofu
Garlic
Onion
Bell pepper
Carrots
Mushrooms
Snow peas
Edamame
Green onion
Sauce Ingredients:
Soy sauce
Sesame oil
Cooking wine (For a non-alcoholic alternative, use 1 ½ tablespoon vegetable broth, 1 teaspoon rice vinegar (or other vinegar) and ½ teaspoon sugar.
Hoisin sauce
Corn starch/Corn flour
Black or white pepper
Instructions:
Wash, peel and slice or dice all the vegetables you'll use. Then cut the vegetables into pieces that are any size you like.
Then, whisk or shake all the sauce ingredients together before cooking anything. (If you don't want to mix all the sauce ingredients, at least mix water with corn starch before adding to your chow mein)
Next, cook the chow mein noodles for one minute less than package directions. Since they'll absorb sauce and some vegetable liquid, they'll finish cooking in the pan.
Once the noodles are out of your pot, drain away the hot water and rinse in cold water. Cold water stops the cooking process. You could also dip the noodles into an ice bath. (Depending on the brand of noodles you use, they may become mushy if overcooked. If the noodles come out of your pot fully cooked, it's best to toss them into the stir fry at the very end, once the pan is off the heat. They won't absorb as much flavor but also won't get overly mushy.)
To stir fry the tofu and vegetables, start with 1 tablespoon of oil in a large pan, over medium-high heat. Add the tofu and cook until it's browned, about 10 minutes; higher heat will brown the tofu more quickly.
Remove the tofu from your pan and add the remaining 2 tablespoon of oil.
Add onion to your pan and cook for about 2 minutes; until it starts to turn translucent. If you prefer you onion well-cooked, you can cook it for longer.
Add garlic and cook for about 1 minute, then add harder vegetables that typically take longer to cook, like carrots, bell peppers, edamame and mushrooms
Stir fry these vegetables for another 2 minutes.
Next, add the more tender vegetables, like the snow peas and green onion. Also add cooked noodles, browned tofu and sauce.
Cook for 2-3 minutes, mixing everything together. Remove from the pan when you've cooked the vegetables and noodles to your liking.
Serve hot, topped with sesame seeds, extra green onion, hot sauce or whatever else you like!
We thank everyone who joined the #VegChallenge and the winners for sharing the recipes they used. Whether you're an experienced home chef or a beginner, you can try these and other great recipes to enjoy a delicious meal and embrace the beauty of vegan cooking!
As Veggly grows further, make sure you stay up to date and read some of our success stories and messages from our users who found love from their VegMatches – all on this page here.
Stay up to date with all of our announcements, other news stories, blog posts, and recipes. Please follow Veggly across our social channels: