From now on, we will start sharing some inspiring stories about people who had the opportunity to meet vegan partners or friends, thanks to Veggly! This first one is this cute vegan couple from Germany!
We will put all of these stories under #OurVegMatch to make it easier to find.
Helping vegans and vegetarians meet is the main reason why we created Veggly and knowing it is working makes us very happy and inspires us to keep going!
Evi and Falco met through Veggly and are dating nowadays. Here's the testimonial Evi shared with us: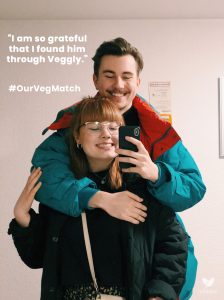 "Hey, so this is our love story. My name is Evi and I am 18. My partner's name is Falco and he is 23. We matched on the 13th December 2019 on the app. We had many awesome dates, the first one being on a vegan Christmas market! Since the 2nd of February 2020 we are officially a couple.
The story began when I just signed up on the app (on the 13th dec), scrolled trough and then I saw his cute merge smile. We both clicked each other's "like" buttons and we matched <3 Later he told me that he saw a new like and immediately knew I was the one when he saw my profile. We texted for a few days, shared each other's instagram and our numbers later on. We noticed a strong connection between us and decided to meet asap. We live in different cities (I am from Krefeld and he is from Herne),
I don't think we would have met without the app. We are real greenies & the connection is even greener, so we took the train to see each other, always with the hydro flask and a vegan snack in the backpack. I had a relationship with an omnivore for 2.5 years, & I have to admit that it was awful going out eating outside or to talk about the climate change, animal agriculture etc. I was sure that my next partner should have the same values as me. I am so grateful that I found Falco through Veggly.
We have the same values and beliefs, the same ideology and the same interests. I mean we share everything!! We love to cook together and marinade some good tofu. We also went to a vegan meet-up and met some really nice people with the same interests and taste of food. I am so happy that I found someone, who supports me and makes me happy – he does. I can only recommend to date another vegan, the chances that your vegan partner is a good cook is very high, also you have someone on your side who encourages you to stand up for what you believe in. "

(The first pic is from our first date, on a ferris wheel 🎡, the other pics are us now. We went to a vintage store and we enjoy spending time with his lil cute doggie 🐶)

Sincerely Evi
Got your own story to share? Send it to [email protected] so we can feature it here on #OurVegMatch!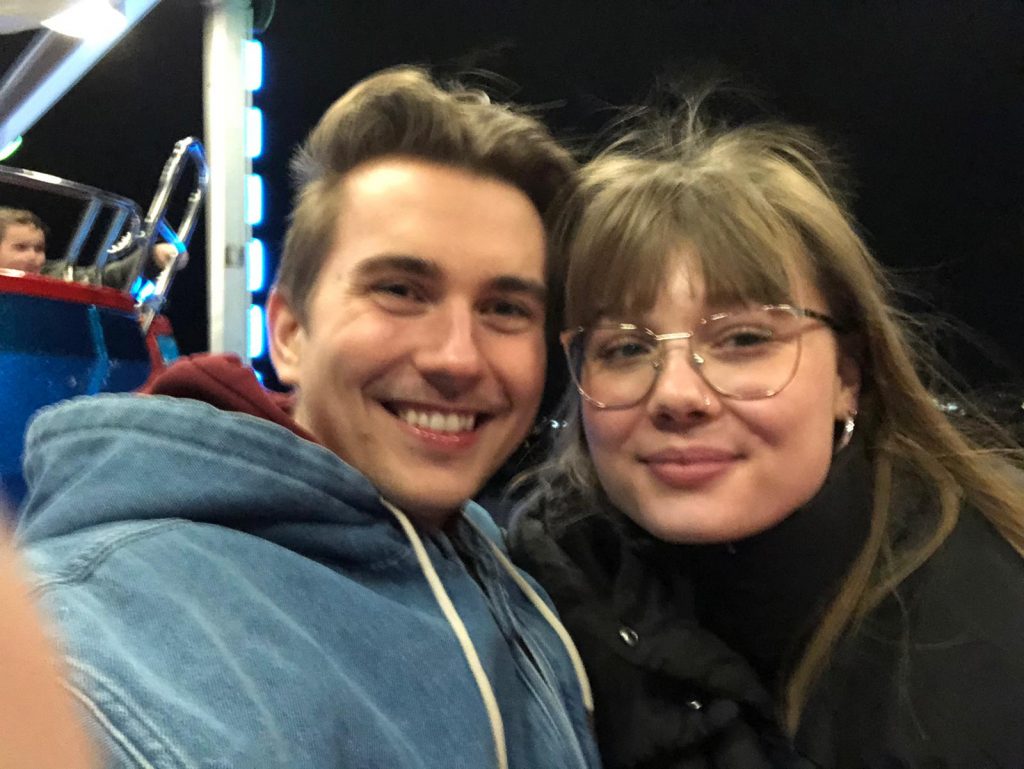 Would you like to find your Veg-Match as well? We've had more than half a million Veg-Matches to date! Install now and Subscribe to our blog to hear these heartwarming stories as well as delicious vegan recipes, news about the app and much more! 🌱 😊