We are glad to share a heartwarming success story that began on Veggly. Kimmy and Karthik connected on Veggly almost a year ago, and have since been happily together. Their journey from a VegMatch to getting engaged is what we at Veggly aim to create, fostering genuine connection within the vegan community. Here is Kimmy and Karthik full story:
"Hello Veggly!
My partner Karthik and I met on your dating app on November 26, 2022, and met in person on our first date the following day, November 27, 2022. We felt an immediate connection, and the past year has been a whirlwind of wonderful milestones: we moved in together in the spring, bought a house together in the summer, and just last week, Karthik proposed, and I said yes! We are so excited to get married in our home state, California, later this year and enjoy celebrations with our families in their respective states/provinces next year.
Thank you so much for creating a dating app where we could find one another. We feel so fortunate to have found each other and have such aligned values and interests. We especially appreciate finding a vegan partner <3
We are incredibly grateful – thank you! Kimmy & Karthik"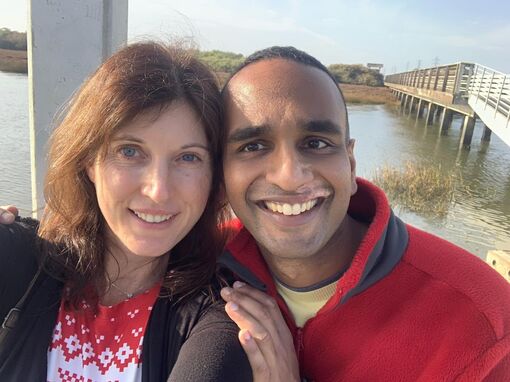 We couldn't be happier for Kimmy and Karthik's beautiful journey and we wish them the best for their future. Their story shows that your perfect match can be just a message away, and Veggly is here to help you find yours.
If you have a Veggly success story you'd like to share, don't hesitate to reach out to us. We'd love to feature your story of love and connection on our blog. Thank you again to Kimmy and Karthik for letting us be a part of theirs. 💚🌱
Would you like to find your VegMatch as well?
We've had millions of VegMatches to date! Install now and Subscribe to our blog to hear these heartwarming #OurVegMatch stories, as well as delicious vegan recipes, news about the app and much more!
Please follow Veggly across our social channels: