About 18 months ago I listened to a RNT fitness podcast with Dr Minil Patel (episode 95) and it made me question my diet. Fast forward 18 months and I have massively changed the way I eat. I was still eating fish when I went out but since watching Seaspiracy earlier this year, I've decided to stop eating fish and seafood too. I don't eat dairy at home but may have a little when I'm out or visiting friends and family.
Cheese used to be in lots of my meals (think pizza, pasta & risotto) and I thought I couldn't live without it. Lots of people say the same thing to me now! I wondered whether I'd be able to make a decent cup of masala chai (we are tea drinkers in our family) but I've discovered that oat milk makes a delicious cuppa. It's even better! I don't bake as much as I used to but I'm learning about substitutes through the Happy Pear Vegan Baking Course.
I'm eating a variety of different cuisines and as a result, cook with lots more herbs & spices and eat even more vegetables than before. I'm not sure about the medical evidence between skin and dairy consumption but my skin is a lot clearer (there be other factors to account for this) and I feel a lot better overall.
There are the environmental benefits of a plant-based diet to consider too. I watched David Attenborough's A Life On Our Planet over last year and two facts that stuck with me are:
1. 70% of all the birds on our planet are domesticated, mostly chickens 2. If we all adopted a mostly plant-based diet, it would halve the land needed for agriculture. That's huge!
Earlier this year I completed an online 4 week course with Aim Hi, Understanding the Climate Crisis. 77% of our farmed land is used for animals which only provides us with 18% of our food. The remaining 23% of farmed land is used for plants and gives us 82% of our food. These numbers show us that the energy conversion from animals is inefficient.
So onto one of my favourite foods to order when I'm eating out… a burger! It's great to see that the vegan options have improved but I've enjoyed making different burgers at home over the last year. This beetroot and quinoa burger is a great one to try out now as it's super summery. Beetroots are in season and the mint & parsley combo works really well.
You can find me on Instagram @jigeatsplants so if you try this out, tag me in your stories and posts. I would love to see your recreations!
Ingredients – makes 4 burgers
150g beetroot (approx. 3 small beetroots)
80g quinoa (dried weight), cooked and cooled
1/2 red onion
1 garlic clove
10g fresh mint
10g fresh parsley
1 flax egg*
Salt & pepper
Spray oil *1 tbsp ground flaxseed and 3 tbsp water mixed and in fridge for 15 mins
Method
Prep the flax egg and then the veggies and herbs. Peel and coarsely grate the beetroot and finely chop the onion. Pick the mint leaves from the stems and finely chop. Finely chop the parsley leaves and stems. Peel the garlic clove and crush or finely chop
Place all burger ingredients in a large mixing bowl and mix well 3. The mixture will make four patties. Make sure you press them together really well to ensure they hold their shape. Heat the spray oil in a large frying pan and add the beetroot and quinoa burger patties. Cook on each side for 3 – 4 mins until slightly browned and finish off in the oven for 20 mins at 180 degrees Celsius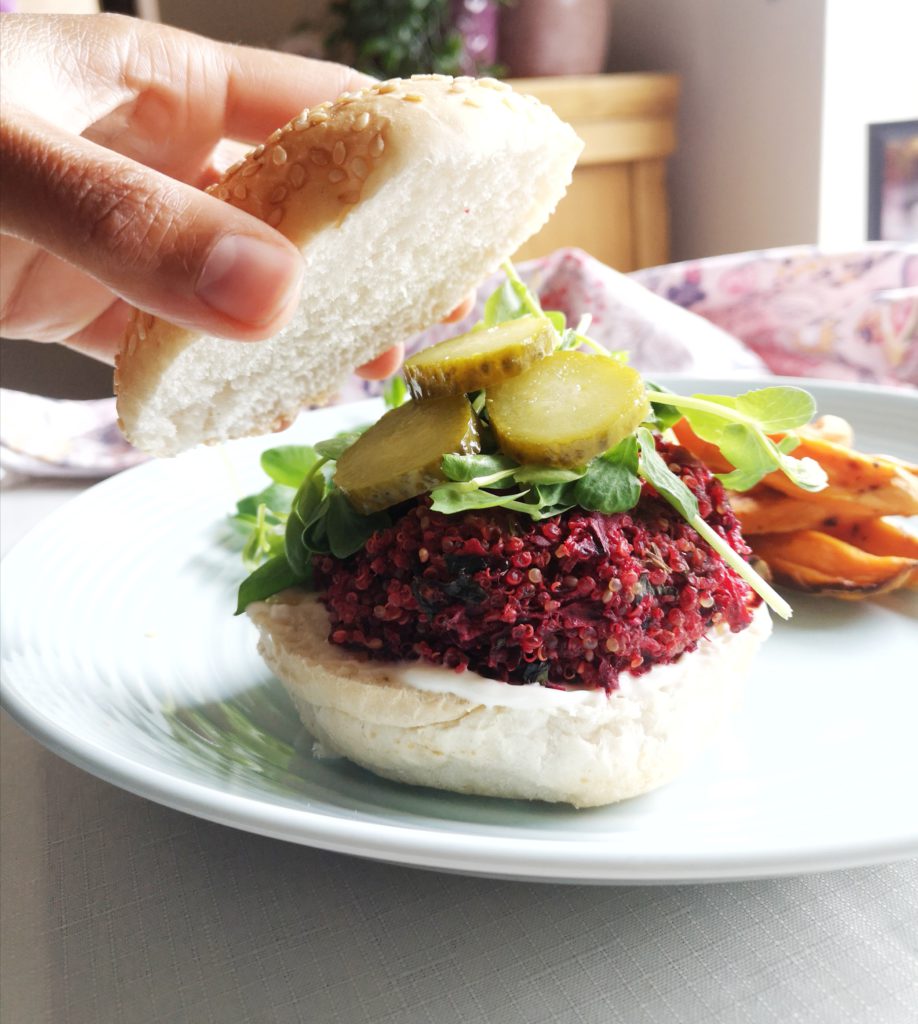 Beetroot and quinoa burger served in this photo in a sesame bun with vegan mayo, pea shoots and pickles! With a side of sweet potato wedges and salad.
References & Links:
https://www.rntfitness.co.uk/ep-95-minil-patel/
https://www.seaspiracy.org/
https://www.happypearcourses.com/
https://attenboroughfilm.com/
https://www.aimhi.co/
So there you have it!
As Veggly grows further, make sure you subscribe to our blog and stay up to date with all of our announcements, other news stories, blog posts, and recipes.
Please follow Veggly across our social channels: