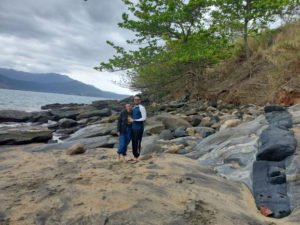 May 25, 2021, was not just another "ordinary" day of the pandemic. By the end of it, something beautiful had begun. At around 11 pm, a sequence of events began that was anything but ordinary.
I was curious about the Likes I had received in the last 4 months and decided to get Veggly Premium.
The last Like I had received, which had only occurred less than 5 minutes earlier, was from a woman in Uberaba. Whom I would've never seen since my radar was up to 100km away and Uberaba is 500km from here.
We think we know everything, right? We've all created personal standards for who we will and won't engage with online.
I looked at the first profile picture, found it wonderful, and clicked to see more. However, this was the only photo, and I usually like to have at least two photos before proceeding. Why? I don't know either.
She had no information in her bio, and again, my instincts went into alarm mode. After all, there was a long distance to consider, she only had one photo, and there was no description underneath. My profile was totally the opposite, with several photos and a long bio.
Even so, I clicked the Like button to create a Veg-Match. The other Likes, I totally ignored. I'll never know who they were, and I'm so happy and grateful for that.
I said "hi," joked about the distance, and sang a song with Uberaba in the lyrics. The function for sending audio is wonderful in this app. Shortly after that, I said that I needed to sleep, but would return to send more messages the next day.
My feeling was that it had been a reciprocal and light conversation, although very short.
For her, it was a different story. She thought I was joking, and that I would not send any more messages. 😅
Early the next day, I texted her, and only about 14-15 hours later, she answered me. This was unusual (I would later find out) since Daphne commonly goes for days without contacting people on social networks. Plus, the fact that I was more or less a stranger to her, and the chances of leaving me hanging were huge.
But it all worked out. All these behavioral patterns were put aside, and she replied to me late that Thursday night. Our conversation started early on Friday and extended into Saturday. We made our first video call, where we talked for almost 4 hours.
During that week, she watched an episode of a TV series in which a person makes a questionnaire with another friend, and whoever passes this questionnaire will then fall in love. To the surprise of @callmedaphne, I had not only watched this show as well but remembered the season and episode number. 😁
We didn't believe that a quiz would do magic, but it served as a good icebreaker for a possibly awkward first video call. After saying goodbye to her that day, I felt it was time to say goodbye to the app it self.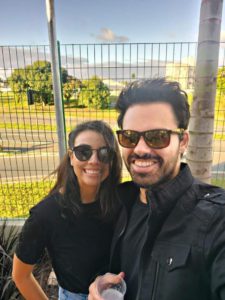 It may have been a bit hasty, but there are moments in life when you just know you're doing the right thing and don't even think about looking back. I think that was the case.
We talked all day Sunday in another long video call, then the same thing occurred on Monday and the rest of the week; and throughout the month of June.
During this time, I received a picture with a QR code for a playlist titled "To Make You Smile." It had the titles of the songs I have tattooed on the body, and another one titled "The Weight of My Heart" from @CastelloBranco, along with a letter.
I answered this letter by sending the name of my favorite perfume and a Daruma; and days later I received a response with her favorite perfume.
When we decided it was time to finally meet in person, we chose July 9 (which is a holiday in São Paulo), and that later came to be the official beginning of our relationship.
I drove 500 kilometers to visit her, we stayed at the home of a cousin of hers for the weekend. I thought the idea was great because it would make her feel safe. When I arrived at the house, I sent my location to a friend who already knew the whole situation. "Man, if I disappear, I was here." You never know, right?
It was about 7 pm when we met for the first time, but the hug felt more like we were having a reunion.
As the relationship evolved, we each met with our respective families, had long video calls, and daily conversations, with many good moments in person. A little over one year after our initial Veg-Match, I got in my car bound for Uberaba to pick her up and move in together.
I could not be happier or more grateful. She is moving to a new city and state for our relationship.
I believe that true love is more about how much you're willing to give to your partner, regardless of how much they give you. I'm willing to give the world to her.
Thank you so much, Veggly!
Text edited by Michael Chatham